We went out to a music festival yesterday. We left in the middle of the afternoon, and we didn't return until late at night. Or ten p.m., which is late depending upon who you ask. Here we are enjoying our time away, listening to good music, and having fun:
Don't we look like normal people? Too bad we don't feel normal half the time, but no matter. Here is the stage at the festival: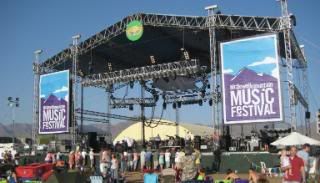 and my parents, who got us the great VIP passes: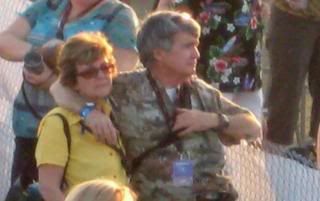 The first band was the Wailers, the band that used to have Bob Marley, and now has this guy:
and this other guy: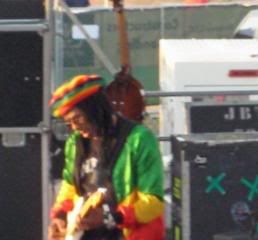 See what a fan I am? I actually love this type of music, but I never listen to it on my own. After they left the stage, we had a bite to eat, wandered around the booths, bid on an auction item (a Lou Holtz signed "Play Like A Champion Today" poster, of course), and returned in time for Blues Traveler. Here they are:
I only knew two of their songs from the radio, but let me tell you, that guy can sure play the harmonica. It was great, and we were right up close to the stage. We both remembered how much we like live music, and what a shame it is we never go out like this anymore. Now that the boys are getting bigger and are easier to leave, maybe we'll have a chance get out again.
Next time I promise photos of the boys. I forgot to take the camera to the birthday party we attended yesterday, but maybe I can steal some pictures from the mom.