So Jack's newest favorite thing to do is say "Hey, mom?" about 655 million times a day. This proceeds everything from "Are we there yet?" to "Is it okay if I poke my eye with a knife?" to "Do lizards bite?" I am not making this up. I try to maintain some level of patience, but it can be challenging.
I also realized that it is not too far in the future that Nick will also be talking. I fear for my ears. And my sanity.
But I will say this, my adorable children are getting cuter and cuter by the day. Today we spent a lot of time together on the swingset, we went to swim lessons, and we all squashed into one chair and watch an episode of Calliou together.
So here are the latest and greatest photos of these great little boys, who will soon grow up and leave us for real life.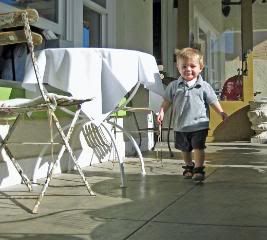 This is Nick at
Pallatte
, my new favorite place in the whole wide world. Seriously, if you have a minute and you're near downtown, I highly recommend stopping by. Nick likes it too.
The boys enjoyed spending time on the tire swing today: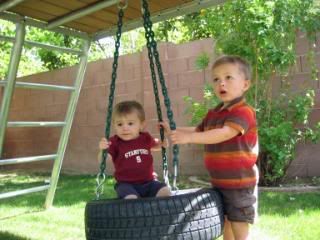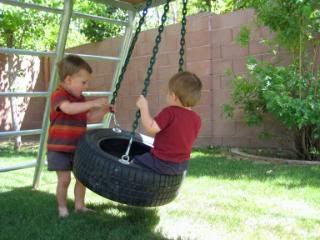 and Jack likes the glider: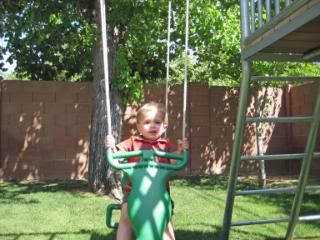 Speaking of Jack, he is in the process of trying to decide if he needs a nap or not. Yesterday he did not. So today I told him he just had to have some quiet time on the couch. He got super cozy to watch his new favorite movie, The Swan Princess, and look what happened:
I didn't let him sleep very long, because when he naps these days he winds up staying up until ten. Not a good time for the family. So I sent Nick in to wake him: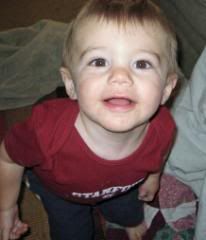 As you can see, he was happy to oblige.
The Man is gone for the rest of the week visiting our Nation's Capitol and wining and dining with other fun people like himself. We will manage, but it is certainly less fun at home without him here.